The high-quality cat staircase with up to 25 years lifetime

... whether just to the first floor

... or with a mesh cover up to 12 m high

... whether detached with a royal view

... whether with an intermediate platform as an observation deck

... or intermediate exit to a lower floor

... whether as extra slim zigzag solution

... or low step height for handicapped cats

... with chip-controlled VIP access below

... or above for better entry and exit control

... whether in standard material zinc

... or painted to match the facade
Delivery on demand on the next working day

Everything to make you and your cats happy!
CATWALK - the high-quality cat stairs up to 12 m height
Each cat staircase is made of high quality weather-resistant materials, so you will enjoy it for a long time.

Here are the most important features: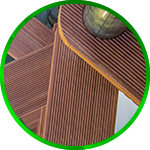 Steps in Bangkirai wood
Bangkirai is a noble hardwood, which is used by professionals for building terraces.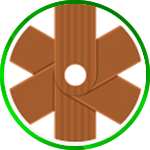 Very space saving
With a diameter of only 48 cm and the construction as a spiral staircase, CATWALK cat stairs can be used almost anywhere, even in confined spaces.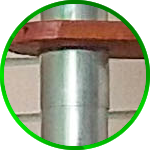 Upgradeable
Catwalk can be retrofitted at 2 meters each. Are you moving and need a higher staircase? Simply reorder.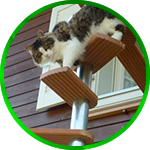 Simple design
The very simple design of catwalk stairs can be used almost anywhere, without ruining the view of the house. For every homeowner a real plus.
IMPORTANT FOR YOU!
Double durability = half price
Conventional cat stairs are made of spruce wood in most cases, so these stairs have a shelf life of up to 10 years. In comparison, the CATWALK steps are made of bangkirai wood, with a shelf life of up to 25 years. The pillar made of stainless zinc steel sheet with the weather-protected wood core holds much longer.

Consequently, you can save money in the long term with a CATWALK Cat Staircase.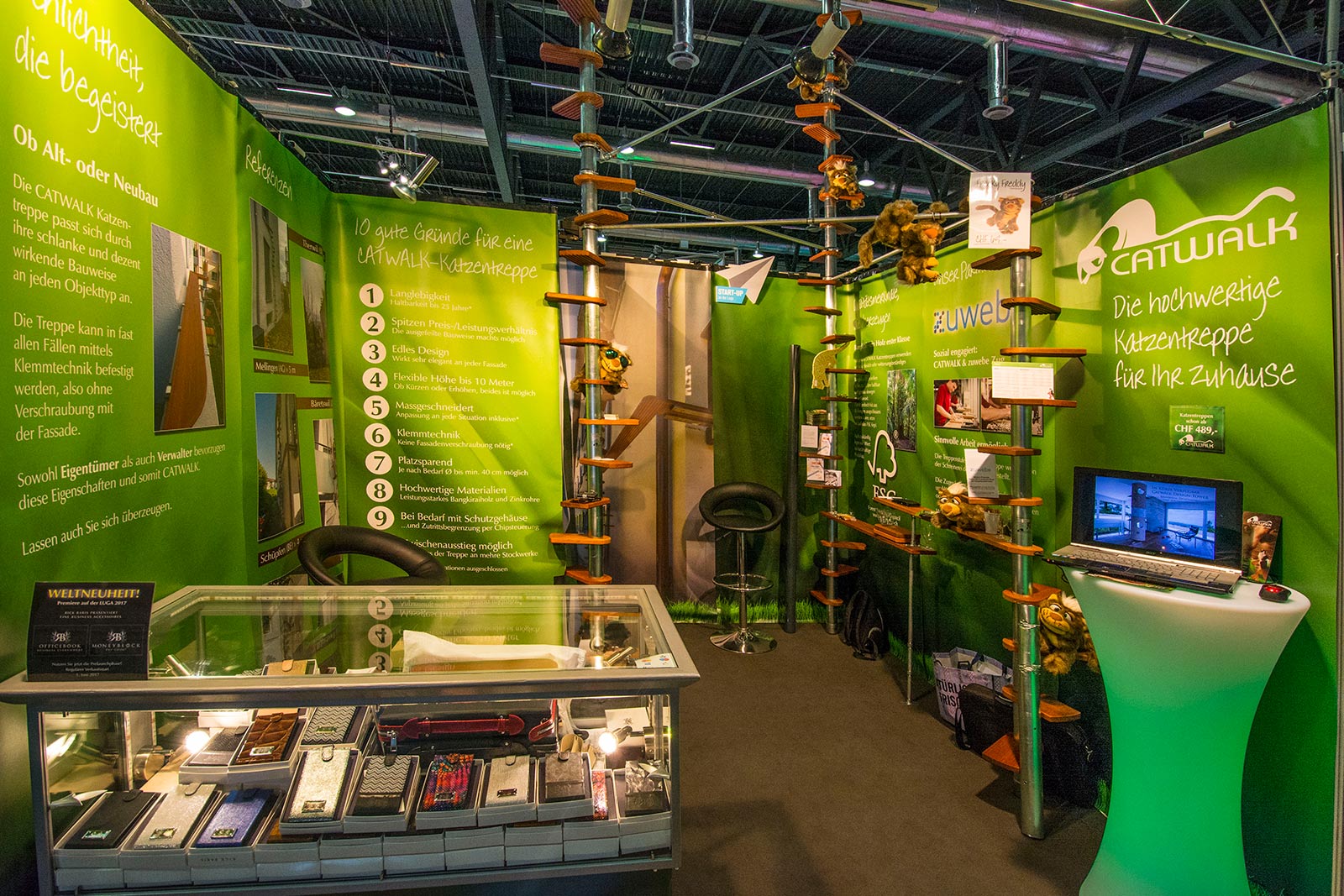 CATWALK at the LUGA 2017
An impressive experience
With our own booth we presented ourselves at the LUGA from 28.04. - 07.05.2017 and are really excited about the large number of interested parties.
And we were not only able to draw the attention of the visitors, but also Tele1, who interviewed us - in the following report.

Individually
Depending on your needs, we can customize your catwalk cat staircase for you.
The following options are available for the cat stairs: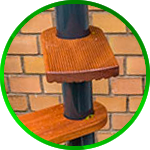 Pipe color
Uncoated or in your desired color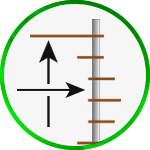 Height & wall distance
Up to 12 meters high and 2 meters wall distance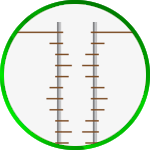 Direction of rotation & bridge
Left or right turn with cantilevered bridge up to 4 meters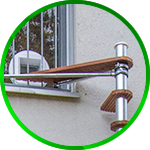 Fixation
Individual clamping technology without screwing to the facade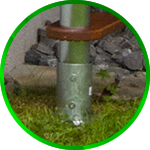 Ground fixing
Fixing against displacement with base plate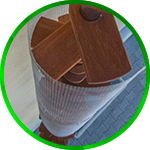 Separating / protective grid
Grid cover as safe routing or spatial separation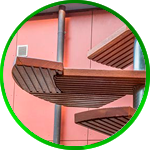 Intermediate platform
Can be mounted as a stopover or viewing platform at every step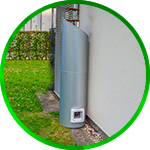 V.I.P. Housing
The "private access" as protection against foreign cats
Cat Door
If you need a cat door to be inserted in a window, please contact a glazier at your location. He measures the window, orders the glass directly in the factory and then inserts it.
This saves costs and time.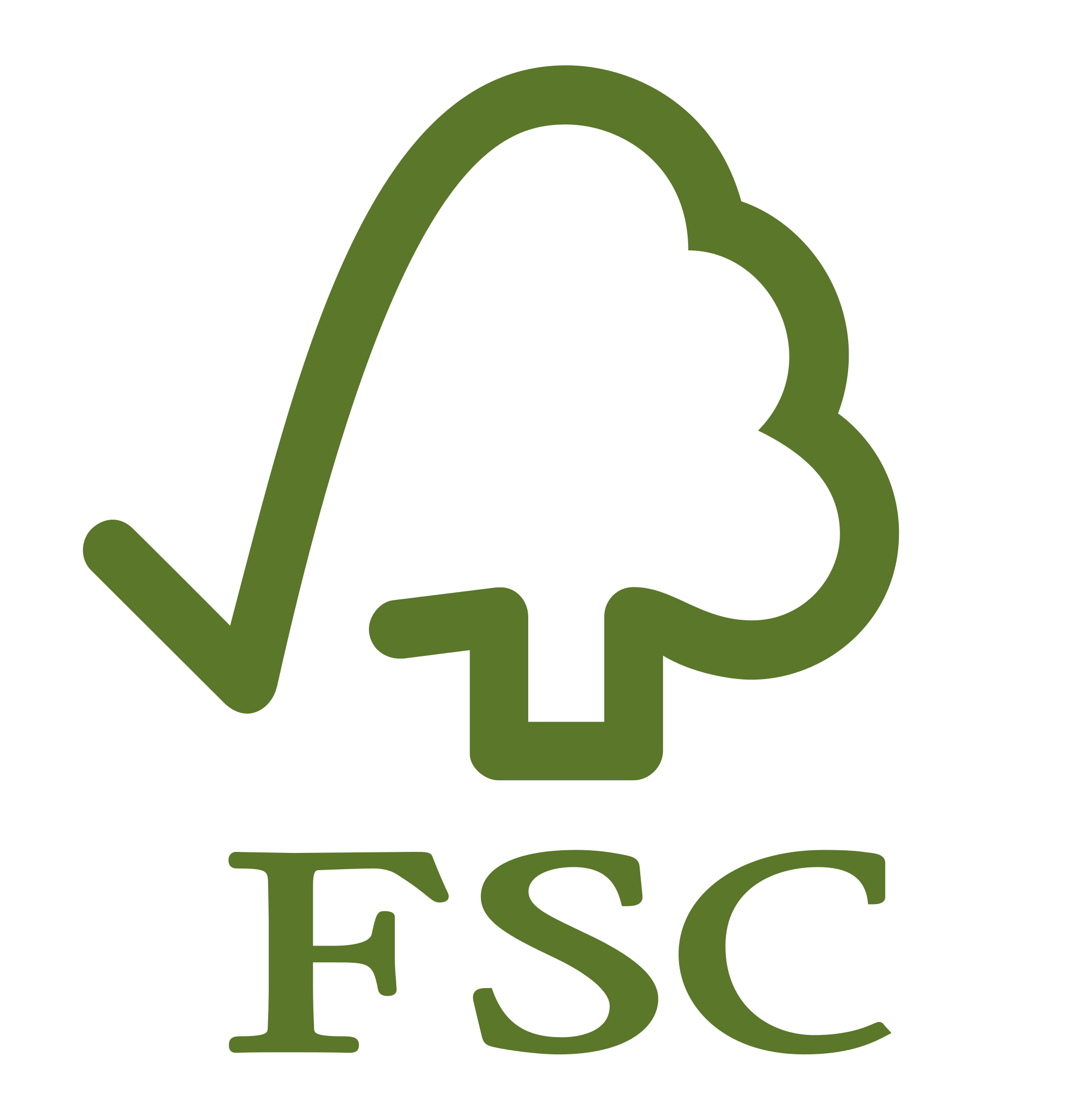 The Bangkirai wood used for the CATWALK stairs has the international FSC (Forest Stewardship Council) seal for sustainable forestry.
For details see www.fsc.org
"We would like to thank you for the noble cat stairs. Have already received compliments. Our tripod cat needed a bit of time but for a few days he uses it without any problems. :-) "

Sonja K.

from Wollerau

"We leave everything as it is at the moment. These cat stairs seem to mean a lot to everyone !!!"

Roman W.

from Bäretswil (after consideration of a decommissioning since no more cat is in the household)

"Thanks for the fast delivery / installation. Looks great and we (including cat) are very satisfied :-) Our tiger uses the catwalk quite naturally and enjoys the newfound freedom."

Ronnie v. A.

from Thunstetten

"The cats enjoy the up and down"

Barbara P.

from Schüpfen

"I highly recommend Catwalk. My cat loves the view"

Sabine F.

from Zürich

"...I just wanted to tell you, that your cat's staircase looks very beautiful and is admired by everyone and our cat is now busy using it."

V. Vonarburg

from Bern
Not entirely serious
FACTS & STATISTICS
933 delivered stairs | 21320 steps
198'049.00 driven km | 193.79 km on average per customer | 25 Cantons + LI
47 Orders from architects / administrators / contractors


Most attractive CATWALK town:
with 241 CATWALKS
Cumulative staircase height CATWALK cat stairs: 4'439.85 m
8 m higher than die Parrotspitze - 4432 m (Monte Rosa Wallis/Italien)
Next goal 38 m: Matterhorn - 4478 m (Walliser Alpen Wallis/Italien)
GALLERY / REFERENCES
Here you can see various cat stairs in Switzerland and Liechtenstein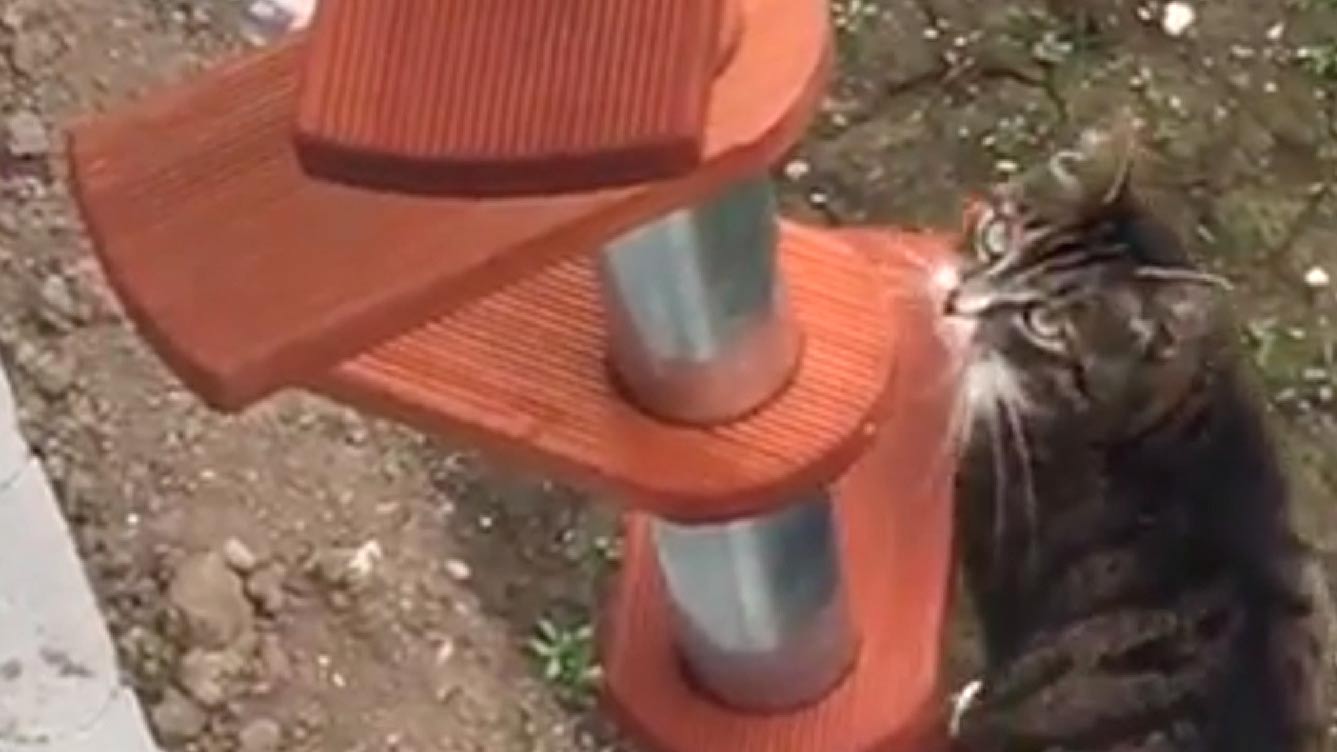 In this video you can see how relaxed the cat uses the 8 m CATWALK cat stairs.
11 good reasons for a
CATWALK Cat Staircase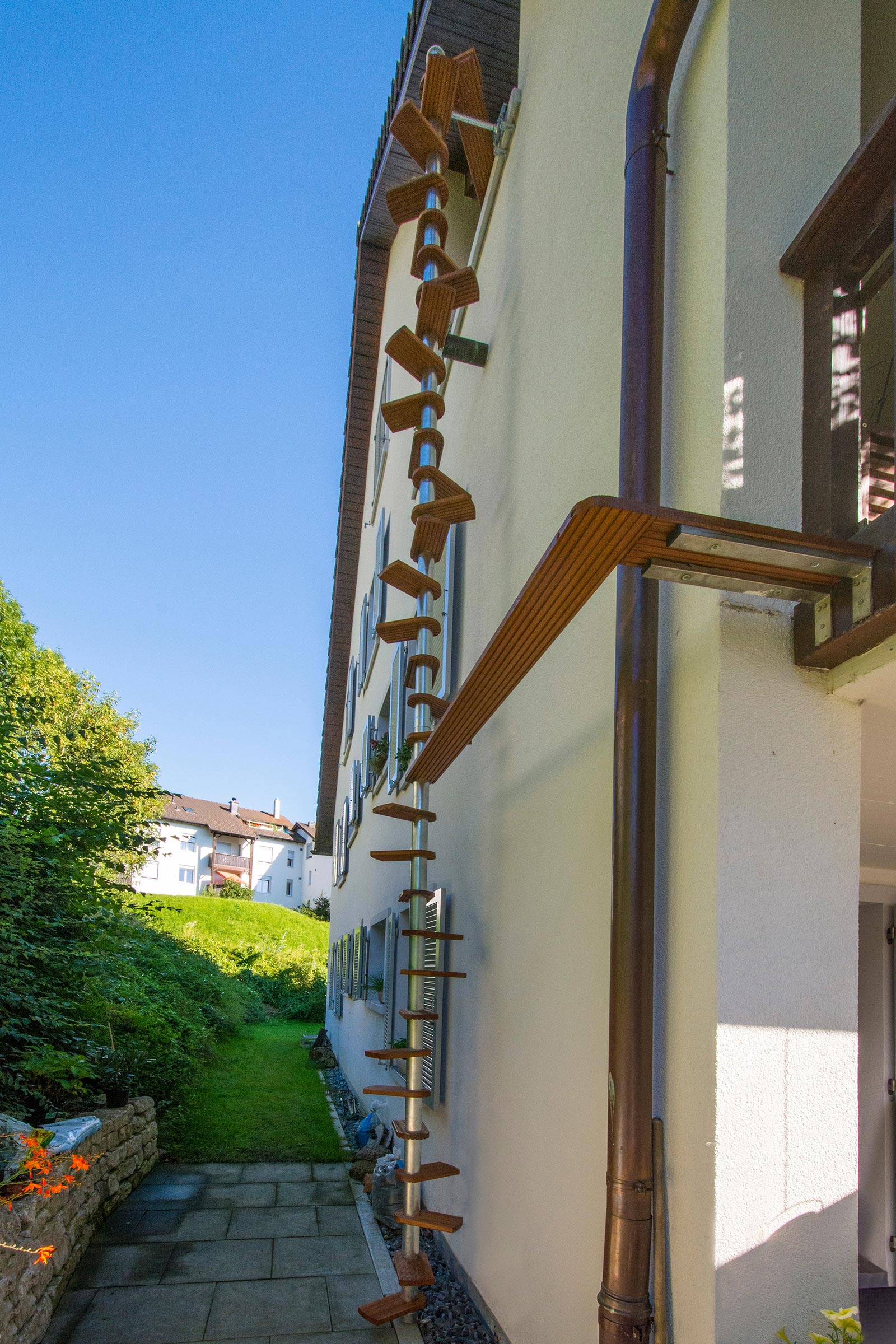 Longevity

Shelf life up to 25 years*

Top price / performance ratio

The sophisticated design makes it possible

Noble design

Looks very elegant on every facade

Flexible height up to 10 meters

Whether shortening or increasing, both is possible

Tailor made

Adaptation to every situation inclusive*

Clamp technology

No screwing to the facade necessary*

Space-saving

Depending on requirements Ø up to min. 40 cm possible

High-quality materials

Powerful bangkirai wood and zinc tubes

If necessary with protective housing

... and access control via chip control

Interim exit possible

... whether on one or more floors

Stairway production of fabric zuwebe

With the purchase of CATWALK Cat Stairs, you have the opportunity to support (gainfully) impaired people who are actively and passionately involved in the production of stairs.
* Exceptional situations excluded
Buy cat stairs | Contact
Choose your CATWALK Cat Stair and you will get (if possible)
within a few hours
an individual,
tailor-made offer.

Please write your requirements in the message field.
I will find the right solution for you.